Availability and Price of Sovaldi in Pakistan by Vikor Enterprises, distributor of Ferozsons Laboratories. Sovaldi (Sofosbuvir) is the new miraculous medicine for chronic Hepatitis-C treatment.
Sovaldi is available in Pakistan from Jan, 2015. Sovaldi (Sofosbuvir) is manufactured by Gilead Sciences, United States. Sovaldi in Pakistan is distributed by Ferozsons Laboratories Limited as regional partner. The subsidized Sovaldi Price in Pakistan is around Rs.1142 Pakistani rupees per tablet.
Hepatitis C is a viral disease, causes by Hepatitis C Virus (HCV), resulting in inflammation of the liver leading into Liver Cirrhosis, Liver Cancer, Liver failure or multi organ failure. Hep C is a silent killer because most people infected with HCV shows no apparent symptoms for several years, until the last stage.
According to United States Centers for Disease Control and Prevention (CDC) around 3.2 million Americans are infected with HCV. According to WHO statistics, 7% of the population in Pakistan is hep-c infected. While in some areas in Pakistan the prevalence of hepatitis C is as high as 40% according to Journal of Pakistan Medical Sciences(JPMS), which warns Hepatitis C in Pakistan as Silent Storm.
In Pakistan, Sovaldi registration application was submitted in May, 2014. The request for accelerated review to use Sovaldi in Pakistan for Hep-C treatment was approved on November, 2014.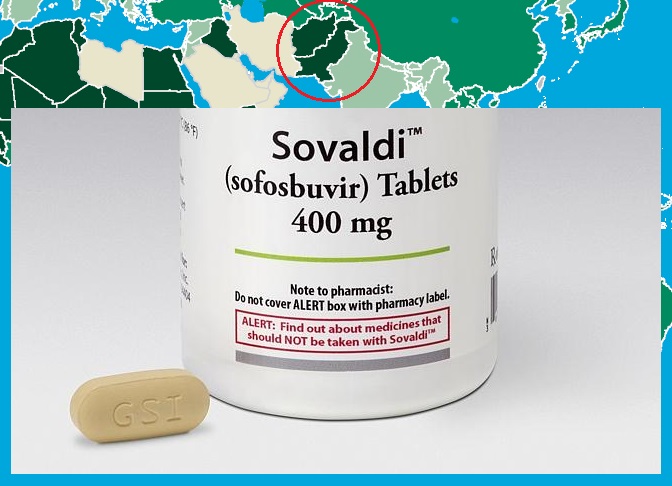 Sovaldi is available in Pakistan on subsidized rates from December, 2014 on designate hospitals. Initially, the drug might not be available on the market pharmacies at subsidized rates. As Professor Muhammad Umar, chair of the Special Committee of WGO for Hepatitis-C Treatment Guidelines, hinted.
Sovaldi in Pakistan: Price, Availability of Hepatitis-C medicine
Approved by Federal Ministry of Health, Pakistan Ferozsons Laboratories Limited has entered into an agreement with Gilead Sciences, United States to distribute its breakthrough line of medications for the treatment of Hep-C (HCV), Hep-B (HBV) and AIDS (HIV) infection in Pakistan, at affordable price.
In order to get Sovaldi medicine in Pakistan, the patients have to contact the Vikor Enterprises or Liver Center at Holy Family Hospital, Rawalpindi, for registration of the drug for treatment. Find below the process:
Get Sovaldi Medicine in Pakistan for Hepatitis C Patients
In order to buy Sovaldi 400mg tablet in Pakistan for Hepatitis C treatment on subsidized price, one requires to go through registration process. Please complete the following Sovaldi Registration documents:
Genotype, LFT, CBC lab tests reports of the patients.
Doctor Prescription with Patient name, Age and Sovaldi medicine prescribed.
Two copies of Patient's CNIC for official record purpose.
Sovaldi Patient Registration Helpline in Pakistan
Vikor has improved a lot the process of Sovaldi patient registration. Thanks to the new process, now you can get the Sovaldi medicine in Pakistan within less than a week time. Once your documents are ready, please call the following Sovaldi patient registration helpline, established by Ferozsons:
Call Sovaldi Registration Helpline at 021-111-111-707 (Monday – Saturday) 09:00AM – 10:00PM
Once confirmation SMS is received, you can visit your designated Vikor Branche and directly buy the medicine on cash. After you get the token, the collection process takes about 2 hours at branch.
Important Note: Vikor online computerized system does not allow patient data change/update at branch. Any discrepancy found in Patient name, NIC, Father/Husband name will create problem/delays for your patient to get the medicine. Therefore, please provide patient information carefully to the helpline:
You can set your nearest available city option to get the medicine monthly.
You can name a blood relative to get the medicine if patient is old age or very sick.
Patient and/or Guardian data registered at helpline is verified on Branch through Origional NICs.
It is easy to register with the helpline. But difficult to change city or patient data later.
Getting 2 months medicines are allowed in special cases e.g. traveling abroad, Hajj, Umerah etc.
Buy Sovaldi in Lahore
Vikor Enterprises (Pvt) Ltd. 17-A, Bird Wood Road, Lahore, Punjab, Pakistan. Phone: 0092-42-7586210 / 7577210. Fax: 9242-7587210
Buy Sovaldi in Islamabad
Liver Centre at Holy Family Hospital. Holy Family Hospital, Satellite Town, Rawalpindi. Telephone: +92-51-9290321, +92-51-9290319 extension 2053
Sovaldi Price in Pakistan
Sovaldi Treatment in Pakistan costs around Rs.32,300 PKR per month. This includes price for both Sovaldi 400mg (Sofosbuvir) tablets and Xolox 400mg/600mg (Ribavirin) tablets. Sovaldi tablet is taken once a day, while Xolox is twice a day tablet. However, in future, Sovaldi tablet price in Pakistan is expected to lower further.

The price of Gilead's new hepatitis C drug, Sovaldi, for the 12 week course of treatment in the U.S. is $84,000. Sovaldi is $1,000 a pill in the US to hepatitis C patients. Its high price has drawn huge criticism from people like senators Charles Grassley and Ron Wyden.
The subsidized Solvadi 400mg tablet price in Pakistan is Rs.1065/-. For a whole 12 weeks treatment with Sovaldi(400mg) daily dose it costs ( Rs.90,525 = 1065 x 85 days). Which is cheaper than current inteferon alpha 2b or pegylated interferon treatment therapy, which costs more with low efficacy and more side effects.
Sovaldi as Hep-C Treatment
Sofosbuvir is a nucleotide analog inhibitor, an enzyme that blocks a specific protein required Hep C virus to reproduce. Sovaldi was approved in the United States on December 8, 2013 and in the European Union on January 17, 2014.
Sovaldi is effective against all HCV Genotypes (1,2,3,4). But fortunately, for the Hepatitis-C Genotype 2 and 3 (which are the most common types in Pakistan) the duration of its treatment can be shortened to 6 weeks with same results, leaving the treatment cost to 66,780 PKR only.
Sovaldi can treat multiple types of the hepatitis C virus. It treats well to the patients who could not tolerate or take an interferon injection or have liver cancer. It can saves hep-c patient from liver transplantation. It can also do miracle for non-responding hard to treat patient, including the ones co-infected with HCV and HIV.
After the 12 weeks treatment with Sovaldi, the hepatitis C virus was no longer detected in the blood, achieving sustained virologic response, which means patient is completely and permanently cured, with no further treatment required.
Sovaldi (Sofosbuvir) Side Effects
There are no Sovaldi (Sofosbuvir) side effects reported so far.
Fatigue and Headache, the most common side effects reported in clinical study and due to Ribavirin used as combination with Sovaldi. In participants treated with Sovaldi, ribavirin and peg-interferon-alfa combination therapy, the most common side effects reported were fatigue, headache, nausea, insomnia and anemia.
This is a very good new for viral hepatitis patient in Pakistan. As Osman Khalid Waheed, president of Ferozsons Laboratories, said:
The agreement is a very important milestone for the company but more significantly it also marks a paradigm shift in the treatment landscape for diseases such as Hepatitis C, which affects over 10 million people in the country. We look forward to bringing these new innovations to patients in Pakistan.
Sovaldi (Sofosbuvir) received the status of Breakthrough Hepatitis C Treatment Drug by United States Food and Drug Authority (FDA). For priority review and fast track approval, FDA assigns breakthrough therapy status only the new medicine indicates substantial improvement in clinical evidence, over available treatments for patients with life threatening diseases. Edward Cox, M.D director of Center for Drug Evaluation and Research at FDA said:
Today's approval represents a significant shift in the treatment paradigm for some patients with chronic hepatitis C.
Gilead Sciences, Inc. (GILD) is an American biotechnology company that researches on antiviral drugs to treat patients infected with HIV, Hepatitis-B or influenza. The company volunteered to provide its above $80,000 hep-c treatment (In United States) on non profitable bases in 69 developing countries including Pakistan.
Hepatitis-B Treatment Drugs in Pakistan
Other than Sovaldi, there are some new hepatitis treatment drugs in Pakistan awaiting registration and approval including Viread, Truvada and Stribild.
Viread, an oral nucleotide reverse transcriptase inhibitor (NtRTI) is an antiviral drug for chronic Hepatitis-B virus (HBV) infection. It is an approved chronic Hepatitis-B treatment
in adults and pediatric patients from 12 years of age and older. It is also an effective HIV treatment drug for AIDS patients of age two years and above.