A unique blend of all-natural components makes up Norland Herbal Toothpaste, which offers complete and durable oral hygiene for the gums and teeth. It contains both herbal extract and essential oils, which are both highly effective against bacteria. The usage of herbal paste is an excellent option for everyone, especially those who have toothaches, bleeding gums, or poor breath. Norland Herbal Toothpaste treats several dental and gum disorders. Herbal pastes are significantly superior to harsh, chemical-laden manufactured toothpaste. Norland Herbal toothpaste is completely natural and free of any chemicals.
The Primary Advantages of Norland Toothpaste
Clove contains calcium and vitamin C, which help to relieve dental pain.

The antiseptic properties of basil leaves make them an effective mouthwash.

Mint is an additional unique ingredient that effectively controls bad breath and eliminates harmful bacteria. The best ingredient to eliminate oral bacteria is mint oil. 

It helps to whiten teeth.

Herbal toothpaste is an excellent option for anyone, but it's especially helpful for people with dental issues including pain, bleeding gums, and poor breath.

It also has pain-killing effects and more.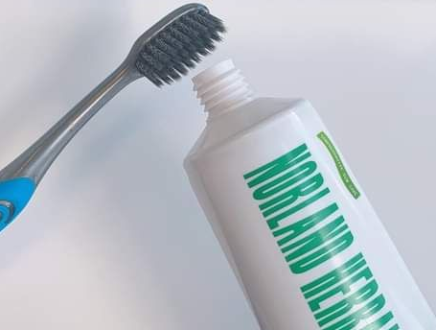 Norland Toothpaste Ingredients
The Norland Herbal Toothpaste has a wide variety of herbs, including cinnamon, clove, neem, mint, and basil. Oral pain can be relieved by clove, which is high in vitamin C and calcium. The germs in the mouth are killed by the disinfecting properties of basil leaves. Mint, another distinctive ingredient in Norland herbal toothpaste, not only reduces foul breath but also eliminates hazardous bacteria. These ingredients fight bacteria and keep tooth decay from getting worse.
Norland Toothpaste Uses
This Norland toothpaste has several uses:
 Oral Use: Norland's toothpaste protects against tooth decay, assists in safely removing plague through brushing, aids in the removal of tooth stains, effective remedy for gum bleeding, Contains painkilling properties that relieve toothaches, boost tooth enamel, eliminates oral ulcers, beneficial for people who struggle to chew due to sensitive teeth, treats and controls bad breath, and clears tobacco stains from the teeth, leaving them clean and white.
For Pain: Norland toothpaste alleviates joint, muscle, and bone discomfort. The toothpaste's pain-relieving abilities are activated by frequent massage. It can also be used to treat any localized pain, including knee, neck, and waist pain.
Facial Use: The finest 'after shave' product for the face is Norland toothpaste. It treats lumps, zits, and other facial problems.
For Respiratory Problems: Norland toothpaste treats upper respiratory tract problems. Norland's all-natural composition makes it useful for a wide variety of respiratory complaints.
For Kids: This toothpaste is safe for children. There are no warnings such as "Do not swallow" or "Use only under strict supervision." There are no chemicals used in this toothpaste, due to which, it is harmless for the kids.
Norland Toothpaste Price
The pricing of this toothpaste is different for different locations and vendors. Most online pricing that is offered at various websites is as follows:
Godsononiuko.org: ₦3,100.00
Jumia.com: ₦2,550
kindystores: $6.61
Norlandmlm: ₦3,000
Huubgreen: ₦3,000
Norland Toothpaste Reviews
Comparing Norland Toothpaste to other well-known toothpaste manufacturers can assist in a better understanding of its positioning. Norland Toothpaste is unique among popular toothpaste products as it uses only natural ingredients. This differentiation attracts organic dental care seekers.
The personal interests and priorities of the people drive their decision to use Norland Toothpaste. Norland Toothpaste has a unique mix of ingredients that is worth trying if a person likes natural products and wants overall oral care.
It is recommended to maintain a regular oral hygiene practice with Norland Toothpaste. Maintain frequent dental checkups, floss regularly, and brush twice daily. It is important to understand that good dental care habits are also essential along with toothpaste for good oral hygiene.