Read Sovaldi Frequently Asked Questions (FAQs) about the new Hepatitis C treatment drug, administered orally as 400mg tablet, manufactured by Gilead Sciences, Inc (GSI) in United States.
Hepatitis C is caused by Hepatitis C Virus (HCV) that result in liver inflammation, Liver Cirrhosis, Liver Cancer and eventually death due to Liver failure.
Previous Hepatitis C treatment options including Liver transplant, Peg-interferon injections, Silliver (silymarin), Homeopathic and Herbal medicines were simply not effective or had complications.
FDA clearance for Sofosbuvir was filled by Gilead Sciences, after years of research in virology. It was major breakthrough in Hep C treatment when US Food and Drug Administration Authority (FDA) verified and approved the medicine, for its miraculous ability to treat human HCV infection.
While covering new reserach and development in Hepatitis C treatment, we have published few article on:
It is simply not possible for us, as a small team of volunteers to answer each on the topic. However, as fellow human beings and health activists, we have all our sympathies with the patient. We also understand the worries of the families, whose love ones are suffering from this silent killer disease.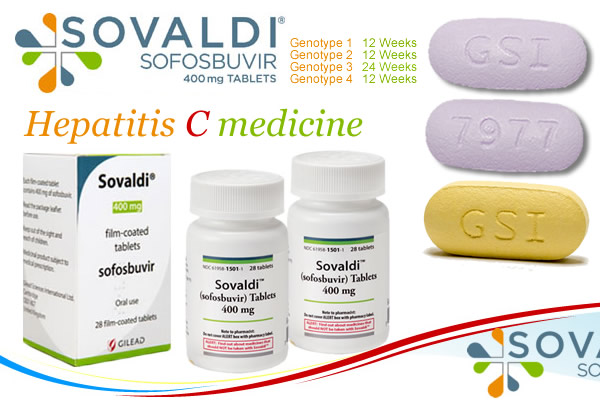 Sovaldi FAQs: Hepatitis C drug Question Answers
Therefore, we thought to publish this frequently asked questions (FAQs) page for the benefit of Hepatitis C patient, who are receiving treatment or looking for Hepatitis C treatment with Sovaldi 400mg tablet:
Why Sovaldi is Cheaper in some Countries unlike US, UK, Europe, Canada, Australia?

Sovaldi price in USA is $1000 with 12 weeks therapy costing $84000 USD. While this price is being heavily criticized, GSI justifies it as compensation for its research expenditures.

However, to share their research benefits for humanity, GSI launched Gilead Access Program to provide Sovaldi at 0% profit in 68 developing countries. Bangladesh, Bhutan, Cambodia, Egypt, Ethiopia, Ghana, India, Indonesia, Kenya, Malawi, Malaysia, Myanmar, Nepal, Nigeria, Pakistan, Philippines, Rwanda, Tanzania, Thailand, Uganda, Ukraine, Vietnam, Zambia and Zimbabwe are some of those countries. However, some of the deserving countries are still missing in the program e.g Afghanistan.

Is Sovaldi tablet Color White or Yellow?

Sovaldi (Sofosbuvir) 400 mg film coated drug pill imprints GSI on one side and 7977 drug code on other side. In United States, Sovaldi tablet in dispensed in Yellow color.

In many other countries, Sovaldi packing is printed locally to include instruction in regional languages. Sovaldi is also dispensed in White color in some countries with GILEAD ACCESS PROGRAM written on the packing. Gilead has also authorized some regional pharmaceutical partners to manufacture cheap local generic of Sofosbuvir under Access Program e.g in India.

Please buy Sovaldi only through the Gilead's official partner in your country, as news stories of fake Sovaldi tablets being manufactured in local factories are reported in some countries.

How long Should I take Sovaldi tablet?

It depends upon Genotype test result. Drug Dosage and Administration section of the official Sovaldi Drug Literature recommends 24 weeks therapy for Genotype 3 patient while 12 weeks use for patients with Genotype 1, 2 and 4.

| Genotype | Treatment | Duration |
| --- | --- | --- |
| Genotype 1 | Sovaldi + Peg-Interferon-alfa + Ribavirin | 12 Weeks |
| Genotype 2 | Sovaldi + Ribavirin | 12 Weeks |
| Genotype 3 | Sovaldi + Ribavirin | 24 Weeks |
| Genotype 4 | Sovaldi + Peg-Interferon-alfa + Ribavirin | 12 Weeks |

For Genotype 1 patient, who can not tolerate interferon, Sovaldi + Ribavirin for 24 weeks can be considered. Sovaldi + Ribavirin should be used for 48 weeks or until liver transplant, for treatment of CHC in patients with hepatocellular carcinoma. There are no dosage recommendation available for patients with severe kidney impairment or end stage renal disease.

How long Should I take Sovaldi tablet after PCR negative Result?

Hepatitis C treatment duration with Sovaldi does not depend upon your PCR results. Most of the patients are cleared of HCV within first or second moth of the therapy, shown in their PCR test result i.e -ve, log N or zero viral load detected.

Virus is the most resistant life form with remarkable stealth and fight back abilities. Upon detecting a high level of assault, it can hide itself in the body areas, even bones, in the form of non living crystals, waiting for attack back.

Therefore, in order to avoid a relapse or the disease, patient must complete the recommended duration of the treatment according to their Genotype.

Should I get Sovaldi or wait for Harvoni?

With both of the Hepatitis C medicines manufactured by GSI, if we look at these drug at substance level, Sovaldi contains Sofosbuvir 400mg, Harvoni includes Sofosbuvir 400mg + Ledipasvir 90mg. Both are manufacrured by Gilead Sciences (GSI). Sofosbuvir is a nucleotide analog inhibitor of HCV NS5B polymerase and Ledipasvir is an HCV NS5A inhibitor.

So, basically Harvoni is Sovaldi Plus, with an extra enhancer it can further help hard to treat patients. But 99% of them are also treatable with Sovaldi. Following are the other points to be considered:

Harvoni was approved by FDA for treatment of Chronic Hepatitis C Genotype-1 patients only.
Harvoni is not available at non-profitable price under Gilead Patient Access Program, so far.
Harvoni treatment ($84000 USD) is cost is higher than Sovaldi treatment ($94000 USD).
Harvoni treatment duration is same as Sovaldi treatment duration.
Have Questions on Hepatitis C Treatment through Sovaldi
We are committed to help Hepatitis C patients, their families, care givers and health service providers through most updated information about all the Research and Development on fight against Hepatitis C. Our platform is always open for them.
We welcome your questions on Hepatitis C treatment medicines in the comments box below, to be answered by our experts panel. Happy Healthy Living 🙂