Rodan and Fields skin care is an option in an ever-growing industry. These products are developed especially for those ,who are looking to fight the signs of aging or clear up blemished skin and that's where these products come into play. These product offer great effectiveness for lines and firmness. This line is good for skin discolorations, breakouts and Soothe for sensitive skin.
Rodan and Fields is a multi-level cosmetics company that produces a variety of skin care goods. Two Stanford trained Dermatologists, Katie Rodan and Kathy Fields have developed skin care range, named as Rodan and Fields. They are well known for Proactiv and licensed the products to Guthy Renker. In 2003, Rodan and Fields was bought by Estée Lauder Companies, but the business largely remains an independent operation. Now the company operates mainly through multi-level direct selling.
Rodan and Fields are highly popular now a days. Products from them could previously be purchased from high end department stores but it is now concentrating on multi level direct selling through consultants. The products have been developed by doctors to deal with particular skin issues, namely acne, sensitive skin, aging, and uneven skin tone. Rodan and Fields provides an excellent business opportunity for women who are passionate about skin care and selling products through friends and family. Rodan and Fields has been featured in Oprah Magazine, Allure, New Beauty and Vogue.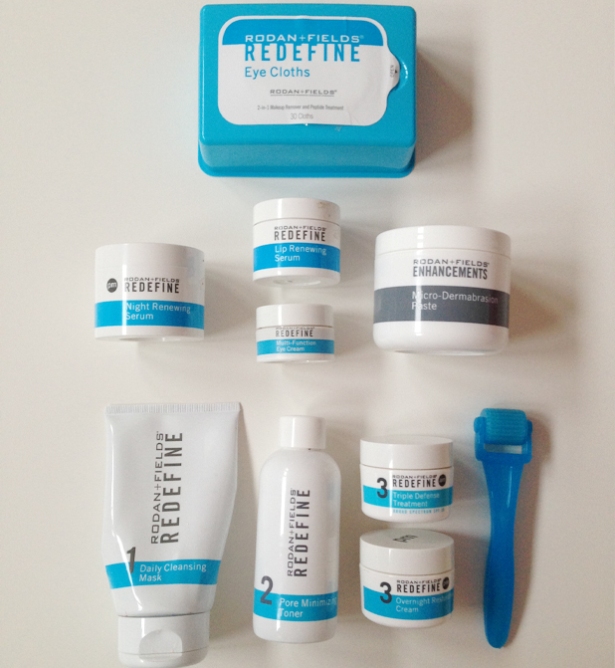 Rodan and Fields Skin Care Product Reviews
Here are some important facts about Rodan and Fields Skin Care Product line as well as a brief review of Rodan and Fields skin care, if you are interested then continue reading:
Rodan and Fields Skin Care Product Line
Rodan and Fields has four product categories, including Redefine for aging, Reverse for age spots and uneven skin tone, Unblemish for acne and acne breakouts and Sooth for sensitive, irritated skin conditions.
Redefine
Here are some important facts about Redifine:
REDEFINE is anti aging line that contains REDEFINE Daily Cleaning Mask, REDEFINE Pore Minimizing Toner, REDEFINE Tripple Defense Broad Spectrum Treatment and REDEFINE Overnight Restoration Cream. The range can be complemented with REDEFINE Multi-Function Eye Cream, REDEFINE Eye Cloths and REDEFINE MACRO Exfoliator.
The product claims to help with loss of firmness, elasticity, fine lines and the appearance of pores.
The products contain high concentrations of peptides, antioxidants and other anti aging ingredients to help fight the signs of aging.
These products are superior to other anti aging skin care products, however, they are expensive and only represent average value for money.
REVERSE
REVERSE is a skin care regimen for brown spots, dullness and uneven skin tone.
REVERSE Regimen includes Deep Exfoliating Wash, Skin Lightening Toner, Skin Lightening Treatment and REVERSE Broad Spectrum.
Various products in this range contain hydroquinone, which is the gold standard for skin lightening. It contains the maximum strength of hydroquinone that is available over the counter without a prescription.
Unblemish
Unblemish is used for treating acne.
It is clinically proven to combat the entire acne cycle, this sophisticated regimen helps unclog pores, clears acne blemishes and calms your complexion to keep pimples and blackheads from making an unwelcome appearance on your face and in your life.
Soothe
Soothe is formulated to relieve sensitive, irritated skin from conditions such as rosacea.
Overall Review
There are always two sides of the coin. Some buyers had trouble with the customer service department and there are reports of side effects. Prices are also a little high for some customers. On the other hand, some customers said that the skin appeared full, dewy, and younger-looking, and texture has improved so much. So there is a mix kind of opinion, some will find a formula works great and others will notice irritation and other reactions.
Some other said that the product may be helpful but it is not for everyone. There are also issues with the Rodan and Fields customer service department, for some callers. Rodan and Fields has been rated C for effectiveness and an average overall 70% total. Consumers have given the company a general rating of 3.5 out of five stars. Most consumers said that they didn't seen any effects on their skin. The facial cleanser and toner are considered good, but the moisturizers give the skin a greasy feeling and break out as well.