Find best low-calorie smoothies recipes for weight loss naturally. Most of the smoothies served by the big chains and stores have a lot of sugar, cream, and calories. Low-calorie smoothies diet is low in calories and saturated fats but loaded with phytonutrients, vitamins, probiotics, minerals and antioxidants that come in a whole-food naturally.
Needless to say, fruits and vegetables contain various nutrients that we need to survive and keep our bodies healthy. The idea of incorporating smoothies into the diet is gaining popularity in the modern world. Many people have come to realize the uncountable health advantages of consuming smoothies, including that of weight loss.
A smoothie can be defined as a blend made by mixing the pulp as well juice and sometimes the skins of fruits and vegetables making a drink that is fairly smooth and requires little or no chewing.
Smoothies are known for their delicious taste and attractive presentation. But smoothies drinks are actually popular due to their remarkable ability to be transformed into whatever your body need them to be. This is always true. Whether you are taking smoothies for a workout, as natural health booster drink or in order to lose some extra pounds.
Low-calorie smoothies for diabetics and losing weight are an awesome way to offer a simpler, delicious as well as a nutritious way to keep diabetes under control and shed excess pounds. There is a wide range of smoothies that are of low-calorie content that can help to lose weight. Adaptability according to calories needs and mouth watering taste, makes smoothies an excellent recipe to keep yourself fit or lose weight. This article focuses on low-calorie smoothies for weight loss.
Low Calorie Smoothies for Weight Loss
We have highlight below some of the tested and the best low-calorie smoothies recepies to lose weight: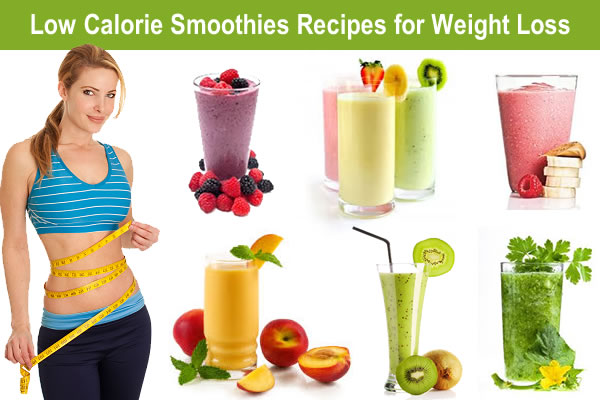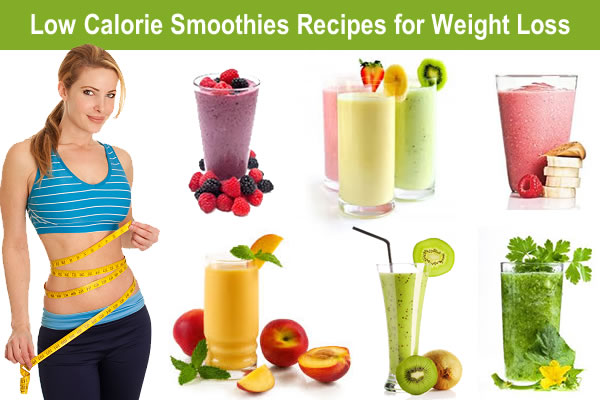 Low Calorie Smoothies Recipes for Weight Loss
Low-calorie smoothies for weight loss recipes should ideally be low in fats and high in nutrients. Below are some of the best low-caloriek smoothies recipes for weight loss:
Peanut Butter and Banana Smoothie

This is one of the most common smoothies that aid in weight loss. The protein content of this smoothie is what makes it healthy and an ideal replacement meal. The requirements for preparing this kind of smoothie are a banana, a cup of a low-fat peanut butter followed by a cup of non-fat milk and ice cubes. Additionally, chocolate protein powder is required. The next step involves placing all the above ingredients into a blender and mixing until smooth.

Mocha Smoothie

This is another healthy low-calorie smoothie diet to jump start your day. It is of low-fat content containing antioxidants, protein, and fiber and is great for boosting metabolism as well. The requirements include ice cubes, a cup of vanilla yogurt (low fat), espresso crystals and cocoa powder. In a blender, you combine the ingredients in the above order and then blend until smooth.

Low Calorie Chocolate Almond Smoothie

This is a four-ingredient low sugar smoothie that offers a relatively chocolaty taste. Vanilla almond milk, raw almonds, chocolate protein powder and ice cubes are all you need to make it. This smoothie contains 150 calories per serving.

Almond Orange Smoothie

Here is yet another low-calorie drink composed of citrus fruit and almond beverage. It contains various health boosting nutrients and antioxidants. Besides, they lower cholesterol levels in the body and help in regulating the blood sugar level. Per serving, an Almond Orange smoothie contains around 148 calories, 2 grams of protein and 29 grams of carbohydrates.

Avocado Aloe Spinach Smoothie

This low-calorie smoothie with spinach, aloe, and avocado is composed of hydrating aloe vera juice, mashed avocado, coconut water, lemon juice, and fiber. It is useful in boosting the digestive system and burning calories. The lemon juice flushes toxins from the body, while the addition of the avocado enriches it with anti-inflammatory omega-3s into the blend.

Watermelon Smoothie

Yogurt, sherbet, some ice cubes, watermelon and a cup of milk are all you need to make a watermelon smoothie. It is low in fat and calories and would definitely be a great one to drink if you want to cut off weight. Watermelons contain various useful antioxidants including vitamin A and C as well as carotenoids that neutralize free radicals throughout the human body. Additionally, watermelons have been shown to prevent various diseases such as asthma, diabetes and prostate cancer.

Mixed Berry Smoothie

These are among the most delicious smoothies that aid in weight loss. The advantage of this smoothie is the simplicity of its preparation. All you require is a cup of berries and non-fat vanilla or low-fat milk, then you blend to a smooth concoction and you are good to go.

Chocolate Raspberry Smoothie

This is another ever sweet combination of chocolate and raspberry. It is incredibly simple to make and an awesome weight loss drink. Besides, it boosts the immune system, promotes the growth of healthy skin and hair as well as aiding in digestion. A chocolate Raspberry smoothie contains around 280 calories, 13 grams, 11 grams of fiber and 13 grams of fat per serving.

Strawberry Banana Smoothie

As per the most popular searches on Google, Strawberry Banana Smoothie is the most popular with over 10,000 people searching for it every month. Apparently, it is a highly nutritious and a low-calorie smoothie suitable for losing weight. The ingredients required include low-fat milk, a banana and a cup of fresh strawberries. Apart from being highly delicious, this smoothie is very nutritious too, as it contains Vitamin A, C, and B12. A serving of strawberry banana smoothie contains 53 calories and has less than a gram of fat.

Peach Smoothie

Another mouth watering and delicious and low calories smoothie is the Peach smoothie. It has a low cholesterol as well as low sugar content. It is made by a combination of milk, sliced peaches, and flaxseed oil. A common type of peach smoothie is the Blueberry Peach smoothie. Blueberries offer a great addition to a smoothie due to their antioxidant components. Apart from the nutrition of the fruits therein, a yogurt-based blueberry smoothie provides an additional benefit of probiotics which help in promoting a healthy digestion.

Lemon Orange Citrus Smoothie

Lemons and other citrus fruits have a cleansing property in the body. They help flush toxins and other unwanted contents such as excess fat by 'scrubbing' the intestines. This smoothie has the sour flavor of lemon mixed with the sweetness of orange juice for a tasteful blend. All you require is a peeled lemon, an orange, and chopped dandelion greens to make this awesome weight loss smoothie. It quite refreshing and an awesome summer treat too!

Apple Smoothie

Apple is an incredible source of fiber, vitamins, and antioxidants. A number of studies show that apples prevent lung and liver cancer among other ailments and more importantly lower cholesterol and help in losing weight. It is incredibly delicious and healthy.

Pineapple Smoothie

Pineapples are a reliable source of manganese, Vitamin B6 and B1 and dietary fiber. They have an anti-inflammatory content and are useful in promoting digestion. They as well support the immune system and prevent macular degeneration. Pineapple smoothies have low-calorie content (82 calories) per serving and are a great shot when it comes to losing weight.
Low Calorie Smoothies with Weight Loss Boosters
Here are a few weight loss boosters ingredients boost your low-calorie smoothie mix to get you lose weight faster:
Low Calorie Smoothies with Yogurt

Low-calorie smoothie with yogurt, frozen yogurt or Greek yogurt can help increase weight loss, especially belly fat around the tummy area. Yogurt helps to dissolve bad fats. Furthermore, yogurt not only reduce fats but help retains muscle proteins during weight loss.

Low Calorie Smoothies with Beans

Eating beans not only keeps the blood sugar levels steady but it also increases the levels cholecystokinin. It is a hormone that controls appetite. Its high level reduce the appetite.

Low Calorie Smoothies with Ginger

Capsaicin is a compound that increases metabolism and helps food digestion. It is naturally found in ginger and hot peppers. Make excellent low-calorie smoothies with ginger by adding a tablespoon of fresh grated ginger to the smoothie mix.

Low Calorie Smoothies with Green Tea

Low calorie smoothies with green tea make a great recipe to lose extra weight by boosting metabolism. Catechins, antioxidants found in green tea increases metabolism, reduce LDL cholesterol, boost fat burning and reduces unnecessary body weight.

Low Calorie Smoothies with Cinnamon

This spice is a tasty way of boosting the flavor and sweetness of a smoothie without adding calories. It has been established from modern scientific research that cinnamon slows down the rate stomach empties food. It keeps the hunger away with steady sugar levels the blood for longer period.

Low Calorie Smoothies with Vinegar

Consuming vinegar slows down the passage of food from the stomach into the small intestine. In this ways, vinegar helps you feel fuller for a longer period. Modern studies has established that consuming 1 tablespoon vinegar daily keep your body weight and waist under control.

Low Calorie Smoothies with Dark Chocolate

Dark chocolate is known to reduce the levels of stress hormone cortisol. Hight level of cortisol is associated with fat storage, especially in the abdominal area.
Tips to make Low Calorie Smoothies
Here are some extra tips to make low-calorie smoothies perfect:
Frozen fruit or Chia Seeds

Make the smoothie filling by adding ingredients that thicken the smoothie. Great smoothie-thickening ingredients include chia seeds and frozen fruits.

Water

Water has, of course, zero calories, and will be the lowest calorie liquid, along with tea, that you can add to your smoothie. While water has no calories, it also essentially has no nutritional value. Use water, coconut water, non-dairy milk or low-fat milk as your smoothie base to make it a low-calorie smoothie. Skip the juices – they'll increase the calorie content of the smoothie, and you'll probably be adding fruit anyway.

Carbs and Fiber

Carbohydrates should come from fruit or veggies. Watch your portions here, and keep to about 2 cups of fruit per serving. Fruit and vegetables will make up most of the carbohydrate and fiber content, and much of the nutrients in your smoothie. Fruit makes smoothies tasty but tends to be higher in calories than vegetables. Just watch your portion sizes when adding fruit. Aim for no more than 2 cups of fruit per serving. If you can, try to add leafy vegetables to your smoothie. If you've never had a green smoothie, start by adding a ½ cup of raw baby spinach.

Protein

Add protein to make your smoothie filling, feed your muscles and to make it more of a meal. Weight loss smoothies that serve a meal replacement (e.g. instead of breakfast) should ideally include protein. Protein helps you feel full and helps make your smoothie more of a meal. Protein is also important to maintain muscle mass. During weight loss, you tend to lose some muscle along with body fat. How much muscle you lose will depend to some degree on how much protein you're consuming. Furthermore, if you're exercising (as you should), fueling your muscles with protein will aid recovery from your workout and maximize your results.

Healthy Fats

Add 1 tablespoon of healthy fats such as avocado, nut butter, and flaxseeds. Healthy fats are important for optimal health, help your body absorb nutrients, and make weight loss smoothies more satisfying.

Sweeteners

Making low-calorie smoothie recipes free of sugar adds an extra benefit for diabetes and weight loss. therefore, be careful with the type of sweetener you add to the smoothie. Bought smoothies often contain a huge amount of added sugar, with some popular smoothies containing several times the entire recommended daily amount of sugar in one smoothie. Most of the low-calorie smoothies at Starbucks or smoothie king are made with sweeteners without calories. Try to use only fruit to sweeten your smoothie. But if you need a little more stick to natural sweeteners such as molasses, xylitol, and honey.
Low Calorie Smoothies Flavors
Boost the power of your low calorie smoothies with natural flavors with spices, extracts and fresh herbs without adding extra calories:
Allspice
Almond Extract
Banana
Basil
Cardamom
Cayenne Pepper
Cilantro/Coriander (Green smoothies)
Cinnamon
Clove
Coconut Extract
Ginger
Lavender
Lemon
Lemongrass
Mint
Nutmeg
Parsley (Green smoothies)
Peppermint
Strawberry
Vanilla Extract
Please keep in mind that even these low-calorie smoothies are full of nutrients, protein, carbs and fiber. Drink at least one or two glasses of water before or after taking these smoothies. The extra amount of water will essentially help your body to utilize the best potential of the nutrients included in the smoothie mix. Do forget to check out Low Carb Diet Breakfast Food Ideas.