Learn all about metronidazole vaginal gel.
Bacterial vaginosis (BV) is one of the most common infection among sexually active women that is responsive to antibiotics. BV is present in at least 15% of the sexually active population; this makes BV 3–4 times more common than urinary tract infections, many times more common than Trichomonas vaginalis infection (even among sexually transmitted disease clinic populations), and much more common than vulvovaginal candidiasis.
Without specific bacteria to treat, it certainly is understandable that treatment of BV also is in a sorry state. In fact, the reported rate at which antibiotics "cure" BV has actually decreased from >90% of cases when metronidazole was first used to a present range of 50%–80% of cases, and most reports indicate rates at the lower end of this range.
The conclusions of this large double-blind trial are that metronidazole, even when administered for 14 days, has limited effect on BV.
A limited effect such as this would not be expected if BV was caused by a single bacterium with susceptibility to metronidazole.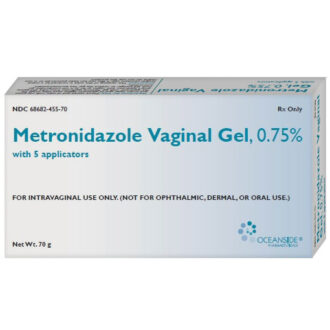 Metronidazole Vaginal Gel Review
Metronidazole gel reviews are satisfying. One says, "I was prescribed Metronidazole for BV. I got anxiety from reading the extreme reviews. Don't do that to yourself. I had stomach cramps and gas, slight nausea (rarely), and that was it. If you were not prescribed an exact time frame to take the two times a day pill, take it twelve hours apart. That gives you exactly two times in 24 hours for the medication to work. I'm on my last day and I'm feeling great".
Metronidazole Vaginal Gel Usage
Metronidazole vaginal gel usage is for vaginal use only. Learn the correct way to apply this medication by reading the instructions on the product package. Use as directed, usually once or twice daily. If using once daily, use the medication at bedtime. Ask your doctor or pharmacist if you have any questions on the correct way to use this medication. Fill the applicator provided with the medication. Insert the applicator high into the vagina and press the plunger to release the medication. Clean the applicator with warm soapy water and rinse well. Continue to use this medication until the full prescribed amount is finished, even if symptoms disappear after a few days. Stopping the medication too early may allow bacteria to continue to grow, which may result in a relapse of the infection. Do not have vaginal sex or use tampons or douches while using this medication. Inform your doctor if your condition persists or worsens. For vaginal dosage form (gel):
Adults and teenagers, one applicator full (5000 milligrams [mg]) inserted into the vagina (at bedtime) for 5 days. Each applicator full contains 37.5 mg of metronidazole.
Children use and dose must be determined by your doctor.
Bacterial Vaginosis Treatment with Metronidazole Gel
Bacterial vaginosis can cause symptoms such as discharge with an unpleasant odor. The antibiotics clindamycin and metronidazole are both effective treatments for bacterial vaginosis. There has not yet been enough research on the possible benefits of lactic acid bacteria treatments. Bacterial vaginosis (BV), the world's most common vaginal infection, costs you time, comfort, and money. BV is associated with increased incidence of sexually transmitted diseases (including HIV), spontaneous abortion, and pre-term labor.
Metronidazole Side Effects
Metronidazole may cause some unwanted effects. Although not all of these side effects may occur, if they do occur they may need medical attention. Check with your doctor immediately if any of the following side effects occur:
Itching in the vagina
pain during sexual intercourse
thick, white vaginal discharge with no odor or with a mild odor
Less common
Abdominal or stomach cramping or pain
burning on urination or need to urinate more often
burning or irritation of penis of sexual partner
itching, stinging, or redness of the genital area
Some side effects may occur that usually do not need medical attention. These side effects may go away during treatment as your body adjusts to the medicine. Also, your health care professional may be able to tell you about ways to prevent or reduce some of these side effects. Check with your health care professional if any of the following side effects continue or are bothersome or if you have any questions about them:
Diarrhea
dizziness or lightheadedness
dryness of the mouth
feeling of a furry tongue
headache
loss of appetite
metallic taste or other change in taste sensation
nausea
vomiting
Metronidazole may cause your urine to become dark. This is harmless and will go away when you stop using this medicine. After you stop using this medicine, it may still produce some side effects that need attention. During this period of time, check with your doctor immediately.
Metronidazole Vaginal Gel in Pregnancy
Metronidazole gel in pregnancy can be used but it depends on the time of pregnancy. There is no scientific proof that metronidazole is harmful to an unborn baby. However, because metronidazole use during human pregnancy has not been fully studied it is not possible to say that metronidazole is absolutely safe to use in pregnancy. When deciding whether or not to take metronidazole during pregnancy it is important to weigh up the benefits of its use against the known or possible risks, some of which may depend on how many weeks pregnant you are. Left untreated, infections at any stage of pregnancy can cause harm to both mother and baby.
Additionally, some untreated vaginal infections during pregnancy may increase a woman's chance of going into premature labour. It is therefore important to receive appropriate treatment if you are diagnosed with an infection during pregnancy. This summarizes the scientific studies relating to the effects of metronidazole on a baby in the womb. It is advisable to consider this information before taking metronidazole if you are pregnant. For some women, treatment with metronidazole in pregnancy may be necessary. Your doctor is the best person to help you decide what is right for you and your baby.