Addyi (flibanserin), a medicine that is aimed to treat hypoactive sexual desire disorder (HSDD) in premenopausal women, is approved by the U.S. Food and Drug Administration. Addyi is the first FDA-approved treatments for sexual desire disorders in men or women till now. Prior to Addyi, FDA didn't approve any treatment for sexual desire disorder problem.
A considerable number of women are suffering from HSDD, which is characterized by low sexual desire that causes marked distress or interpersonal difficulty. By having such problem, your relationship actually suffers a lot. HSDD is classified as acquired problem or disease, it means the patient had previously no problems with sexual desire but with the passage of time, patient has acquired it. It occurs regardless of the type of sexual activity, the situation or the sexual partner.
There can be a number of factors that cause lack of libido. For example the quality of a sexual relationship, indeed the quality of a relationship without sex factor being involved plays a major role in determining the fact that women is actually suffering from HSDD. There may be other reason behind her behavior. It is also true that most of the times, women is so tired from household tasks, childrearing and job, that she has simply no energy for sexual activity.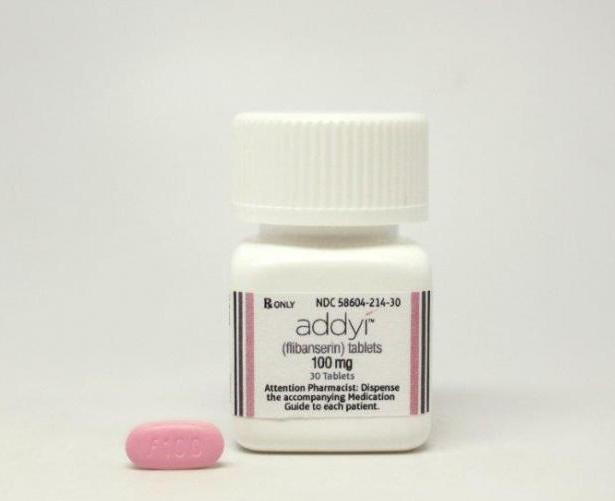 Addyi (Flibanser) in Side Effects, Dosage, Cost, Uses, Mechanism
Information about side effects, dosage, cost and uses, you can find below:
Addyi (Flibanser) Side effects
Following are some side effects of Addyi, a patient should be aware of:
Patient can have low blood pressure, also termed as hypotension as well as loss of consciousness.
Nausea and sleepiness can also occur as side effects.
Alcohol consumption is totally forbidden during Addyi treatment as the above mentioned risks are increased to many folds when patients drink alcohol.
Addyi can also be harmful when it is being used with certain medicines known as moderate or strong inhibitors like CYP3A4.
After consuming Addyi, patient feels the same as he may have consumed two glasses of wine quickly, as a result, severe hypo tension and a temporary loss of consciousness can occur.
Women after consuming Addyi should observe extra care while driving or walking across the street.
Addyi Dosage
Addyi each tablet contains 100 mg of flibanserin. In addition, some inactive ingredients consist of lactose monohydrate, microcrystalline cellulose, hypromellose, croscarmellose sodium, magnesium stearate, talc, macrogol, and the coloring agents, titanium dioxide and iron oxide are also part of each tablet.Patients are advised to discontinue addyi intake after 8 weeks if there is no improvement. In case of over dosage of Addyi, an increase in the severity of any symptom or the reported adverse reactions occurs there is no known specific antinode for this medicine.
Addyi daily recommended dose is 100 mg PO once at bedtime. It is highly recommended at bedtime and is one of the most important precautions too. Its use during day time increases risks of hypo tension, accidental injury, and CNS depression. If you have missed a dose is at bedtime, it is recommended to take the next dose at bedtime on the next day instead of taking missed one in waking hours or taking double dose.
Addyi use
It comes in tablet form and one tablet of Addyi should be taken daily. As mentioned above that it is dosed at bedtime in order to decrease the risk of adverse events occurring.
Addyi Mechanism of action
FDA has first time approved a drug that can increases men's or women's libido and that is Addyi. The exact mechanism by which the drug improves sexual desire and related distress is not known but it is being assumed that Addyi may work more like an antidepressant. The main function of an antidepressant is to normalize an imbalance production of neurotransmitters in the brain, Addyi also works on the similar principle, it acts upon chemical production in the brain and as a result it restores sexual desire in body. It needs to be taken every day for as long as you want it to work.
Addyi Cost/Price
Cost of Addyi has not been finalized by the company but it is said by the experts that its price may be similar to a month dosage cost of Viagra pills. A drug cost comparison site named as GoodRx found that the average fair cash price for Viagra is around $400 a month and it is expected that patients with insurance coverage would only need to pay about $30 to $75 a month which is affordable at pocket.