Tagrisso/osimertinib side effects, cost, dosage for lung cancer.Tagrisso is marketed by Astra Zeneca Pharmaceuticals based in Wilmington, Delaware.
FDA approves new pill Tagrisso/osimertinib to treat certain patients with non-small cell lung cancer on November 13, 2015. FDA has approved Tagrisso (AZD9291) 80mg once-daily tablets for the treatment of patients with metastatic epidermal growth factor receptor (EGFR) T790M mutation-positive non-small cell lung cancer (NSCLC), as detected by an FDA-approved test, who have progressed on or after EGFR tyrosine kinase inhibitor (TKI) therapy.
Lung cancer is the leading cause of cancer death in the United States, with an estimated 221,200 new diagnoses and 158,040 deaths in 2015, according to the National Cancer Institute. The most common type of lung cancer, NSCLC occurs when cancer cells form in the tissues of the lung. The EGFR gene is a protein involved in the growth and spread of cancer cells.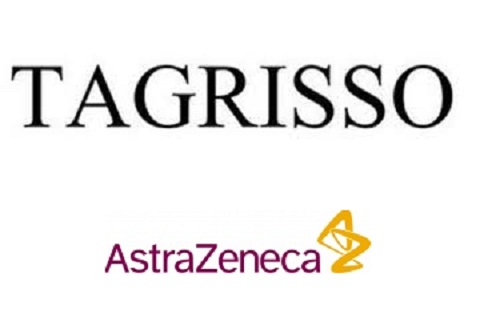 Tagrisso/osimertinib side effects
The most common side effects of Tagrisso are diarrhea, skin and nail conditions such as dry skin, rash and infection or redness around the fingernails. Tagrisso may cause serious side effects, including inflammation of the lungs and injury to the heart. It also may cause harm to a developing fetus.
The safety and efficacy of Tagrisso were demonstrated in two multicenter, single-arm studies involving a total of 411 patients with advanced EGFR T790M mutation-positive NSCLC whose disease worsened after treatment with an EGFR-blocking medication. In these two studies, 57 percent of patients in the first study and 61 percent of patients in the second study experienced a complete or partial reduction in their tumor size (known as objective response rate).
Tagrisso/osimertinib cost and dosage
According to market survey this drug is currently not available at retail pharmacies because it is recently approved by FDA and is under manufacturing process. Once, it will be available at retail outlets we will let you know about the unit cost of drug and dosage for individuals.For this purpose, We highly recommend you to visit this page frequently for for further updates and cost comparisons.