Read about Acebutolol Side Effects, Pharmacology and Mechanism of action. Acebutolol popular brands includes Sectral and Prent.
Acebutolol HCl is a selective, hydrophilic beta-adrenoreceptor blocking agent with mild intrinsic sympathomimetic activity for use in treating patients with hypertension and ventricular arrhythmias. It is marketed in capsule form for oral administration. Acebutolol HCl capsules are provided in two dosage strengths which contain 200 or 400 mg of acebutolol as the hydrochloride salt. The inactive ingredients present are D&C Red 28, D&C Yellow 10, FD&C Blue 1, FD&C Red 40, gelatin, maize starch, povidone, titanium dioxide and stearic acid.Acebutolol HCl has the following structural formula: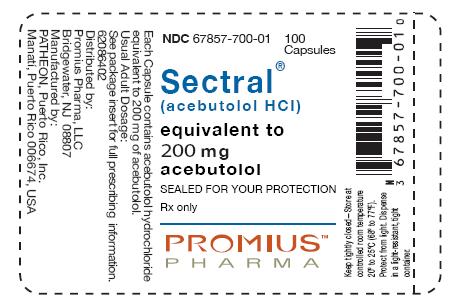 Sectral (Acebutolol) Side Effects
Bradycardia, hypotension, heart failure, heart block, bronchospasm, myopathies, GI disturbances, skin rashes, lupus like syndrome, male impotence, paraesthesia and muscle cramps.
Acebutolol Indications
Acebutolol hydrochloride capsules are indicated for the management of hypertension in adults. It may be used alone or in combination with other antihypertensive agents, especially thiazide-type diuretics.Acebutolol hydrochloride capsules are indicated in the management of ventricular premature beats; it reduces the total number of premature beats, as well as the number of paired and multiform ventricular ectopic beats, and R-on-T beats.
Acebutolol Contraindications
Acebutolol HCl is contraindicated in, persistently severe bradycardia, second-and third-degree heart block, cardiogenic shock and chronic obstructive pulmonary disease(COPD).
Acebutolol Interactions
It may increase the orthostatic effect of alpha-1-blockers.amidarone hypotensive effect may be increased with concomitant administration of both drugs.acebutolo may interact with digoxin, polythiouracil, iohexol, iopamidol, verpamil and amiodrone.
Acebutolol Pregnancy Category
Pregnancy Category: B; D in 2nd and 3rd trimesters (expert analysis). Neonates of mothers who have received acebutolol during pregnancy have reduced birth weight, decreased blood pressure, and decreased heart rate.
Lactation: excreted into milk/not recommended.
Acebutolol Dosage
orally for hypertension intially 400mg once daily or 200mg bid.for angina pectoris dose should be 400mg once a day and may increase upto300mg tid in severe cases.for cardiac arrhythmias dose may be increase upto1.2gm in divided doses.
Acebutolol Pharmacoloy
Acebutolol is a cardioselective, β-adrenoreceptor blocking agent, which possesses mild intrinsic sympathomimetic activity (ISA) in its therapeutically effective dose range.
Acebutolol Class
Acebutolol is selective beta adrenoceptor blocker.Acebutolol HCl is a white or slightly off-white powder freely soluble in water, and less soluble in alcohol. Chemically it is defined as the hydrochloride salt of (±) N-[3-Acetyl-4-[2-hydroxy-3-[(1-methylethyl) amino]propoxy]phenyl] butanamide.

Acebutolol Mechanism of Action
beta-1-receptor activation increases heart rate and consumes more oxygen.being selective antagonist of this receptor acebutolol lowers the heart rate and blood pressure and also decrease the consumption of oxygen.basically this medicine has reverse effect of epinephrine.beta blockers also prevent release of renin which is vasocontrictor substance.
Acebutolol Pharmacokinetics
Acebutolol is well absorbed from the GI tract. It is subject to extensive firstpass hepatic biotransformation, with an absolute bioavailability of approximately 40% for the parent compound. The major metabolite, an Nacetyl derivative (diacetolol), is pharmacologically active. This metabolite is equipotent to acebutolol and in cats is more cardioselective than acebutolol.
Therefore, this first-pass phenomenon does not attenuate the therapeutic effect of acebutolol. Food intake does not have a significant effect on the area under the plasma concentration-time curve (AUC) of acebutolol although the rate of absorption and peak concentration decreased slightly.
The plasma elimination half-life of acebutolol is approximately 3 to 4 hours, while that of its metabolite, diacetolol, is 8 to 13 hours.The time to reach peak concentration for acebutolol is 2.5 hours and for diacetolol, after oral administration of acebutolol, 3.5 hours.
Acebutolol has a low binding affinity for plasma proteins (about 26%). Acebutolol and its metabolite, diacetolol, are relatively hydrophilic and, therefore, only minimal quantities have been detected in the cerebrospinal fluid (CSF). Drug interaction studies with tolbutamide and warfarin indicated no influence on the therapeutic effects of these compounds. Digoxin and hydrochlorothiazide plasma levels were not affected by concomitant acebutolol administration. The kinetics of acebutolol were not significantly altered by concomitant administration of hydrochlorothiazide, hydralazine, sulfinpyrazone, or oral contraceptives.