To get into a medical school, either in United States or in any other part of the world, is truly competitive as well as challenging which can be due to the extremely difficult and complicated selection process. Some students are even unable to pass the 1st screening test , as a result, they become disappointed and change their field.
The reasons that may behind their rejection can vary to a large extent like it could be lack of extra-curricular activities, grades in particular subjects, or sometimes the school itself they choose to apply, etc. It could be silly mistakes regarding application and even during the interview which you can avoid, like an application without insight can largely reduce the chances of getting admission. Your application should be inspiring that can show your insight and interest to the field.
During interview you should try to stay on the topic. Focus on the questions and answer them on target along with necessary and relevant details only, can raise your chance to get admission to higher extent. This article is being written with the intention to help you finding out some of the easiest medical schools to get in, because the competition on medical school admission is becoming higher day by day.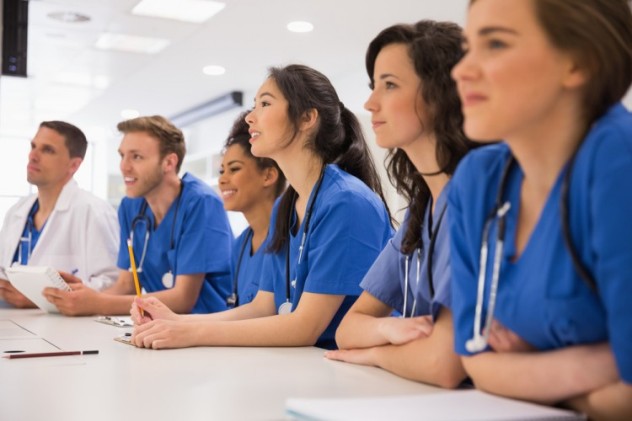 Top Easiest Medical Schools to Get into
Remember one thing that there is no easy medical school to get into with no efforts. You have to work hard and give proper time to studies. Otherwise there is no tips and tricks that can get you into any medical school.
Keys to get Medical School Admission
If you want to be a student of medical school, then to learn something about easiest medical schools to get into is helpful. With the following tips, you can make your procedure bit easier as well as successful.
By keeping your focus on state universities, and by eliminate the private schools in your may help. It is a fact that getting admission in state universities are comparatively easier, in comparison with private universities. State universities are good in term of different factors like you may need comparatively low scores, incur low cost, you will face less competition and you will have quality of courses.
Another important point that you must consider is that every medical school usually define an average GPA score or MCAT score as a criterion for admission. What you can do is, if you have trouble with satisfying the sores required by the medical school, do evaluate the test scores before applying. In this way, you can have an idea about the chances of admission to this medical school.
One of the most problematic side of medical studies is high fee. So if you are one of those students who cannot afford the fee and expenses for admission in a medical school then here is a tip for you, consider some places where you can get 100% scholarship like Cuba. The one thing you have to keep in mind is the limited seats.
Uniformed service is also a reasonable option. If you get the chance then you will perform a two-year active service for each year of their scholarship and you become MDs as an exchange.
Mistakes that you should avoid
You know that getting a medical admission is not an easy thing, and its obviously really sad if someone miss his or her chance due to a silly mistake during interview process, so be careful and attentive:
Never lose focus during interview. Listen to the question carefully and try to answer it patiently. Your answer details should be relevant.
Never structure your answers negatively, always try to answer positively and professionally. Try to focus on positive aspects, no matters about what you are talking.
Never be over confident and overrate yourself.
Try to conduct mock interviews for practice. In this way, you will feel relaxed and confident on the actual interview.
Top 5 Easiest Medical Schools to get into
Here is a list of 5 medical schools which are considered easy in term of getting admissions into.
University of Missouri–Kansas City School of Medicine
Applicants per year: 386
Matriculants per year: 86
Average MCAT score: 3
University of Mississippi School of Medicine
Applicants per year: 266
Matriculants per year: 110
Average MCAT score: 29
University of North Dakota School of Medicine and Health Sciences
Applicants per year: 306
Matriculants per year: 62
Average MCAT score: 27
University of Puerto Rico School of Medicine
Applicants per year: 942
Matriculants per year: 108
Average MCAT score: 24
LSU Health Sciences Center New Orleans
Applicants per year: 990
Matriculants per year: 179
Average MCAT score: 29