See Opdivo cost, dosage, and side effects. Opdivo (Nivolumab) is a new medicine approved by FDA for the treatment of cancer. Opdivo is better than all other chemotherapeutic agents. Opdivo lung cancer treatment cost, side effects, indications, and results are discussed in this article.
Lung cancer is also termed as pulmonary carcinoma or lung cells carcinoma.It is basically a malignant type of tumor (uncontrolled growth of cells). Lung cancer has various stages and treatment of lung cancer is specifically designed according to type and stage of lung cancer. Early stages have high survival rate while late stages have low survival rate depending upon the other factors like age, gender and health condition of the patient.
There are basically two types of lung cancer i.e small cell lung cancer and non-small cell lung cancer.
Small Cell Lung Cancer
As the name indicates small cell lung cancer contains the small cancerous cells with dense neurosecretory granules(Neuroendocrine hormones vesicles). The most common site or area of such type of lung cancer is primary and secondary bronchi. The major cause of small cell lung cancer is smoking and it spreads very quickly into the lungs.
Non-Small Cell Lung Cancer
Small cell lung cancer is further divided into three subtypes adenocarcinoma, squamous cell carcinoma and large cell carcinoma.The most common type of carcinoma is adenocarcinoma which about 40% of all types of lung cancer disease. Second most prevalent and deadly type of lung cancer is squamous cell carcinoma which is about 30% of all types of lung cancer disease. Large cell carcinoma is a rare type of lung cancer. It is so named because cancer cells are too large due to excess of cytoplasm and conspicuous nucleoli.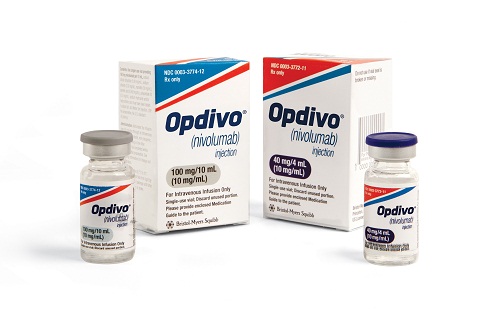 Let's look at Opdivo/Nivolumab lung cancer treatment side effects, cost and indications:
Opdivo Cost and Side effects for Lung Cancer Treatment
Nivolumab is basically anti PD 1 monoclonal antibody approved by FDA on March 4, 2015, for the treatment of advanced metastatic squamous non-small cell lung cancer (NSCLC). FDA gives approval of nivolumab for lung cancer treatment due to its high survival rate as compared to other chemotherapeutic agents. It is marketed by Bristol-Myers Squibb under the trade name of Opdivo. The main mechanism of action of nivolumab is direct inhibition of tumor growth via inhibitory ligand blocking antibody against the programmed death receptor. Nivolumab is kind of targeted anti cancer therapy as compared to traditional chemotherapies.
Nivolumab for Lung Cancer Treatment
FDA approved Opdivo (nivolumab) first for the treatment of unresectable melanoma and metastatic melanoma who are not responding to other conventional chemotherapeutic agents.
On On March 4, 2015, the US. Food and Drug Administration granted approval for the treatment of metastatic squamous non-small cell lung cancer (NSCLC). The decision was made due to good results and high survival rates in lung cancer treatment. Opdivo/nivolumab was found better than all other chemotherapeutic agents like docetaxel.
Opdivo Cost for Lung Cancer Treatment Therapy
Opdivo comes under the category of specialty medications due to which it is an expensive one. Opdivo cost in USA for 10ml vial (Nivolumab 100mg/10ml) is about $2454 USD.
Opdivo price in the United States for a 4ml vial (Nivolumab 40mg/4ml) is around $991. This is an approximate cost of the drug, collected through a market survey. The total cost of therapy varies from patient to patient. The actual cost of Opdivo for cancer treatment depends upon parameters like cancer stage, type of cancer and age of the patient.
On Nov 17, 2016 fiercepharma reported that Japan, with an aging population, has reduced the Opdivo price to half in the country.
Generally, it is estimated that Opdivo cancer treatment total therapy costs from $150000 to $200000.
Opdivo (Nivolumab) Side Effects
According to FDA clinical trials most common type of Opdivo/nivolumab side effects of are:
Fatique
Dyspnea
Musculoskeletal pain
Some other serious type of nivolumab side effects includes:
Pneumonitis
Colitis
Hepatitis
Nephritis/Renal dysfunction
Hypothyroidism
Hyperthyroidism