Read about how to get rid of pityriasis rosea Naturally with Home Remedies.Get rid of pityriasis scars, rash and marks on face fast in a week.
The term Pityriasis Rosea (PR) signifies fine pink scale. Pityriasis rosea is a rash that usually begins as a large circular or oval spot on chest, abdomen or back. The rash typically lasts six to eight weeks, with rare cases extending twelve weeks or longer. Once a person has Pityriasis Rosea, it generally does not recur in their lifetime.
Pityriasis Rosea characteristically begins as an asymptomatic single, large, pink patch called the herald patch or mother patch measuring 2-10 centimeters. The herald patch is a dry, pink to red patch which appears on the back, chest, or neck and has a well-defined, scaly border. Before the herald patch appears, some people experience headache, fatigue, fever or sore throat.
One to two weeks following the initial appearance of the herald patch, a person will then develop many smaller, pink patches across their trunks, arms, and legs. The second stage of Pityriasis Rosea erupts with a large number of oval spots, ranging in diameter from 0.5 centimeters to 1.5 centimeters. These patches are also called as daughter patches. These spots form a symmetrical pine tree patterns.
People of all ages and skin colors get pityriasis rosea, but this skin disease is more likely to occur:
Between 10 and 35 years of age
Females during pregnancy
The exact cause of Pityriasis Rosea remains unknown. Most recently, Pityriasis has been associated most strongly with a virus from the human herpes family called Human Herpes virus Type 6 (HHV6).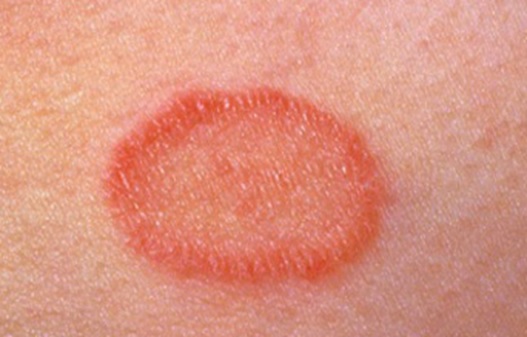 How to Get Rid of Pityriasis Rosea through Home Remedies
Common herbal treatments for pityriasis rosea help soothe inflammation and reduce itching. Following home remieds can help you Get Rid of Pityriasis Rosea naturally::
Neem
Neem is the easiest and most cost effective remedy for pityriasis rosea. It does not cost too much effort too. Boil one bucket of water and add a sheaf of neem leaves to it. Boil for seven minutes then allow the water to cool. Bathe with this water everyday.
Neem has superb anti-inflammatory, antiviral and antifungal properties.These properties will not only eradicate the infection but will also alleviate the itching. Within a short time, the patches will begin to fade and disappear.infection but will also alleviate the itching. Within a short time, the patches will begin to fade and disappear.
Oatmeal
Oatmeal has been used since centuries for healing and curing all kinds of skin diseases and disorders. Cook some oatmeal in enough water so that you can get a thick and mushy consistency.Cool the cooked oatmeal and lather it well all over the patches. Let it dry on the skin. It will flake off on its own. Oatmeal will heal the skin rashes and provide tremendous relief in the itching.
Catechu Paste
Catechu has innumerable medicinal values. It has been used since ancient times in ayurvedic medicine and is a prominent ingredient of paan. Buy some catechu paste from any paan shop.Apply the paste all over the rashes and leave it to dry. Its anti-inflammatory, antimicrobial and cooling properties will soothe the irritated skin and bring considerable relief in the itching.
Aloe Vera
Remove the gel from a fresh aloe vera leaf and rub it three or four times a day, all over the affected parts. Aloe vera will soothe the itching and will also combat the virus and any other infection as well.
Calamine Lotion
If there is itching on the skin, the best and easiest way to control the itching on the skin without going on a scratching spree is to apply calamine lotion generously over the area. Allow the lotion to dry and leave it on until the itching subsides.
Omega 3 Fatty Acids
Omega 3 fatty acids are known to help in all kinds of infections. Increase the intake of food that is rich in omega 3 fatty acids. Flax seeds can be chewed upon for this purpose.
Omega 3 fatty acids that contain the compounds EPA and DHA like fish oil are especially good for treating pityriasis rosea. Cod liver oil capsules can be taken two to three times a day. Take the capsules until the condition subsides completely which might take a few weeks.
Lavender Oil and Safflower Oil
When the itching becomes uncontrollable, mix 5 drops of lavender oil and two drops of safflower oil and apply on the affected patches of skin. The oil can be applied three to four times throughout the day to keep the itching under control. Continue application till the condition cures completely.
Zinc Oxide
Creams that contain zinc oxide and hydrocortisone helps in controlling pityriasis rosea. Baby creams that are used for treating diaper rashes in babies contain abundant zinc oxide and can be tried on the patches of skin. These creams are completely safe and can be used until the symptoms subside.
Antihistamine
Antihistamines can help in controlling the itching and discomfort caused in pityriasis rosea. Antihistamines are available in chemical stores for topical application. One can also think of using vitamin C which is also a powerful antihistamine and can help in improving the immunity as well so that the symptoms subside faster than the stipulated time.