The population of HIV patient has grown; there is an increased risk for development of treatment-related co morbidities, including low bone mineral density and renal mutilation. But now the world have a solution against such a terrible problem termed as HIV in the form of Genvoya, which has developed from Stribild, an older version of the four drug cocktail also given positive recommendation from European health regulators.
Genvoya (elvitegravir 150 mg/cobicistat 150 mg/emtricitabine 200 mg/tenofovir alafenamide 10 mg),which is marketed by Gilead Sciences Inc. based in Foster City, California, is approved by FDA for use in HIV-infected adults and children ages 12 years and older weighing at least 35 kilograms (77 pounds) who have never taken HIV therapy and HIV-infected adults whose HIV-1 virus has suppressed. Genvoya reduces the amount of HIV-1 and increase the CD4+ (T) cells in blood that may help improve immune system. Elvitegravir inhibits HIV integrase by binding to the integrase active site and blocking the strand transfer step of retroviral deoxyribonucleic acid (DNA) integration that is crucial for the HIV replication cycle. Emtricitabine and tenofovir are substrates and competitive inhibitors of HIV reverse transcriptase. After phosphorylation, they are integrated into the viral DNA chain, resulting in chain termination. Cobicistat enhances the systemic exposure of elvitegravir and has no direct antiviral effect.
Genvoya includes a new form of the potent antiviral medication tenofovir that has not been previously approved which slows progression of the virus. This innovative type of tenofovir supply lower levels of drug in the bloodstream, but higher levels within the cells where HIV-1 replicates. Genvoya is developed to facilitate lessen drug side effects. Genvoya emerges to be associated with less kidney toxicity and decreases in bone density than formerly approved tenofovir containing treatments. Even having less toxic side effects the HIV-infected individuals with moderate renal impairment can take Genvoya but patients with severe renal impairment cannot take Genvoya. It also helps reducing side effect with experiencing greater increases in serum lipids (total cholesterol and low-density lipoprotein) than patients receiving other treatment.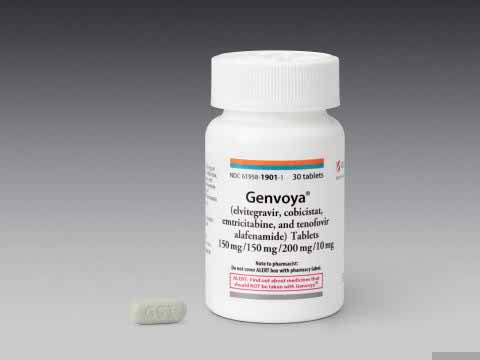 Genvoya side effects, cost, dosage for HIV Treatment
Let's evaluate the side effects, cost, and dosage of Genvoya for HIV Treatment:
Genvoya Side effects for HIV Treatment
The most common side effect related with Genvoya is nausea. Severe side effects include new or worsening kidney problems, decrease bone mineral density resulting in bone pain, softening or thinning of bones which may lead to fractures, fat redistribution and changes in the immune system (immune reconstitution syndrome). Genvoy may develop severe liver problems like hepatomegaly (enlargement of liver) or steatosis (fat in liver) which can be fatal. It also increases lactic acid in the blood and excessive lactic acid may cause lactic acidosis that may be characterized by weakness, lethargic condition, difficult breathing, vomiting, irregular heartbeat and muscular pain.
Genvoya holds a warning to alert patients and health care providers that are caused by drug. Most importantly Genvoya should not be given with other antiretroviral products and may have drug interactions with a number of other commonly used medications.
Genvoya dosage
Generally no dosage adjustment of Genvoya is required in patients with estimated creatinine clearance greater than or equal to 30 mL per minute.The Genvoya daily single combo pills have made it much easier for patients to follow their treatment, preventing the virus from rebounding and growing resistant to the medicine rather than taking multiple pills.
Genvoya is available in green, capsule-shaped, film-coated tablets, embossed with "GSI" on one side of the tablet and the number "510" on the other side of the tablet and is typically taken once a day with food. It is prescribed to 12 years HIV-infected person and older having 35 kg weights. Do not skip any doses as this may make it harder to treat HIV.
Genvoya Cost
Gilead announced the annual list price for Genvoya $31,362. The cost is about the same as the one for its earlier developed four-in-one HIV treatment. Gilead the drug maker aims to provide financial help to patients who cannot afford the cost of the drug.