Dicyclomine (Bentyl) is used to treat symptoms of irritable bowel syndrome. But it may also be used for other conditions as determined by your doctor. Bentyl is also an anticholinergic. It works by blocking a chemical in the smooth muscle of the stomach and intestines, causing them to relax, which reduces cramping.
Normaly it is used for the patients with functional bowel/irritable bowel syndrome. It is an antispasmodic and anticholinergic agent, which is available in different dosage forms like Bentyl capsules for oral use contain 10 mg dicyclomine hydrochloride USP. While Bentyl tablets for oral use contain 20 mg dicyclomine hydrochloride USP.
Another form is Bentyl injection, that is a sterile, pyrogen-free, aqueous solution for intramuscular injection. Bentyl is contraindicated in infants less than 6 months of age, nursing mothers and in patients with unstable cardiovascular status in acute hemorrhage. In addition to these, Bentyl shouldnot be used in patients with myasthenia gravis, glaucoma, obstructive uropathy, obstructive disease of the gastrointestinal tract, severe ulcerative colitis and reflux esophagitis also.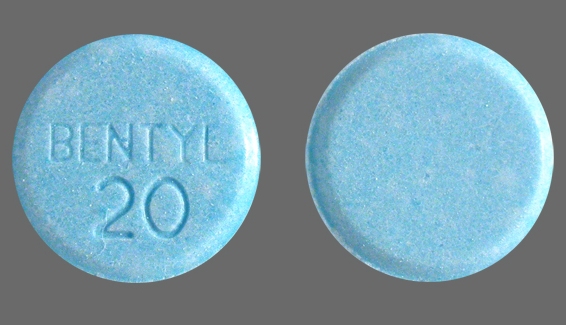 Dicyclomine (Bentyl) Uses, Side effects, Dosage
Here you can find all relevant information about Bentyl including its uses, side effects and dosage.
Dicyclomine Uses
Dicyclomine hydrochloride occurs as a fine, white, crystalline, practically odorless powder with a bitter taste. It is soluble in water, freely soluble in alcohol and chloroform, and very slightly soluble in ether.
Dicyclomine Side Effects
Get emergency medical help if you have any of these signs of an allergic reaction like  swelling of your face, lips, tongue, or throat, hives or difficulty in breathing.
In case of following severe reactions, you should immediately stop the intake and consult your doctor:
severe constipation, stomach pain or bloating

 feeling very thirsty or hot, being unable to urinate, heavy sweating, or hot and dry skin
 confusion, hallucinations, unusual thoughts or behavior
 diarrhea or other irritable bowel symptoms
pounding heartbeats or fluttering in your chest
unusual thoughts or behavior, fast or uneven heart rate, or if you urinate less than usual or not at all.
Drinking alcohol can increase certain side effects of dicyclomine.
Less serious side effects may include:
drowsiness, dizziness
weakness, nervousness
blurred vision;
dry mouth or stuffy nose
mild constipation.
In addition to these general side effects, there may be some others that may depend on the different characteristics of patient like age, other health conditions, other medicine intake etc. If you observe any unusual behavior of your body, consult your physician immediately. Do NOT use Bentyl if:
you are allergic to any ingredient in Bentyl
you have blockage of the esophagus, stomach, intestine, or urinary tract
you have heart problems due to severe bleeding
you have glaucoma
you have inflammation of the esophagus due to acid reflux, loss of strength in the intestinal muscles, or chronic inflammation and ulceration of the bowel
you have myasthenia gravis (a condition in which the muscles become progressively paralyzed)
you are breast-feeding
contact your doctor or health care provider right away if any of these apply to you.
There are some medical conditions that may interact with Bentyl. So it is recommended to tell your doctor or pharmacist if you have any medical conditions, before using Bentyl. If any of the following apply to you, then it is a must to tell your doctor.
if you are pregnant, planning to become pregnant, or are breast-feeding
if you are taking any prescription or nonprescription medicine, herbal preparation, or dietary supplement
if you have allergies to medicines, foods, or other substances
if you have chronic inflammation or ulcers of the bowel, diarrhea, enlargement of the prostate, hiatal hernia, kidney or liver disease, a nervous system disease, overactive thyroid, or urinary blockage or retention
if you have heart disease, heart failure, a history of rapid heartbeat, or high blood pressure
if you are at risk for glaucoma
Dicyclomine Dosage
Bentyl tablets for oral use contain 20 mg dicyclomine hydrochloride USP. As initial dose, it should be taken orally four times a day while maintenance dose could be up to 40 mg and should be taken orally four times a day, after one week with initial dose.
In case of overdose, contact a poison control center or emergency room immediately. Symptoms of overdose may include: large pupils, hot/dry skin, fever, severe dizziness, severe thirst, difficulty swallowing, mental/mood changes (such as confusion, unusual excitement), fast/irregular heartbeat, muscle weakness, inability to move (paralysis), slowed breathing, fainting, seizures.
If you miss a dose, take it as soon as you remember. If it is near the time of the next dose, skip the missed dose and resume your usual dosing schedule. Do not double the dose to catch up.