Spiriva (tiotropium) is a bronchodilator that relaxes muscles in the airways and increases air flow to the lungs.Spiriva is used to prevent bronchospasm (narrowing of the airways in the lungs) in people with COPD (chronic obstructive pulmonary disease), including bronchitis and emphysema.
Other drugs may interact with tiotropium inhalation, including prescription and over-the-counter medicines, eye drops, vitamins, and herbal products. Tell each of your health care providers about all medicines you use now and any medicine you start or stop using.
Spiriva Respimat is used long term for the prevention of bronchospasm in COPD, and for the maintenance treatment of asthma in patients 12 years of age and older. Spiriva is used to prevent bronchospasm attacks. It is important to know that use of this medication to treat a bronchospasm attack that has already begun as Spiriva is not a rescue medicine. It will not work fast enough to reverse your symptoms. Always use a fast-acting inhalation medication to treat an attack.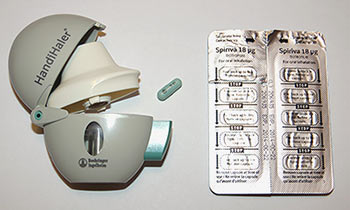 Spiriva (Tiotropium) Handihaler Side effects and Dosage
Below you can get all relevant information about Spiriva (Tiotropium) Handihaler.
Side effects
Like all other medicines, Spiriva (Tiotropium) Handihaler has also side effects, which are given below:
Immediate hypersensitivity reactions, paradoxical bronchospasm, worsening of narrow-angle glaucoma and worsening of urinary retention are some adverse reactions that Spiriva can cause.
In addition to these adverse reactions, there are some other side effects that are not so adverse in nature. But it is highly recommended to tell your doctor, if any side effect persist longer then few days.
Your doctor has prescribed this medication because he or she has judged that the benefit to you is greater than the risk of side effects. Many people using this medication do not have serious side effects. Following are some common side effects that may occur but your body can overcome these effects very soon.
Dry mouth, constipation, or dizziness may occur.
Severe sudden worsening of breathing problems right after use may occur. If you have sudden worsening of breathing, use your quick-relief inhaler and get medical help right away.
Difficult and painful urination is also there in some patients.
Patient can experience fast heartbeat, eye pain, swelling, redness, vision changes like seeing rainbows around lights at night or blurred vision.
Although severe allergic reaction is rare but if you feel any including rash, itching, swelling (especially of the face, tongue or throat), severe dizziness, trouble breathing, then it is recommended to get Immediate medical help.
Spiriva also reduces the likelihood of flare-ups and worsening of COPD symptoms.
Before using tiotropium, tell your doctor if you have narrow-angle glaucoma, or an enlarged prostate or bladder obstruction.
If you are allergic to milk or if you also take medicine to treat Parkinson's disease, overactive bladder, irritable bowel syndrome, depression, high blood pressure, or muscle spasms, then its highly recommended to tell your doctor before taking this tablet as it may cause problems.
Dosage
It is important to note that Spiriva is not approved for use by anyone younger than 18 years old.Information about dosage is given below:
Use Spiriva exactly as prescribed by your doctor.
The usual dose of this medicine is 2 inhalations (puffs) through the mouth once daily.
Tiotropium inhalation powder, hard capsule:
-18 mcg (2 inhalations) once a day using the HandiHaler device
Tiotropium, solution for inhalation:
-5 mcg (2 inhalations) once a day
A Spiriva capsule is for use only in the HandiHaler device. Do not take the capsule by mouth.
Use only one capsule at a time.Do not use this medicine in larger or smaller amounts or for longer than recommended.
Tiotropium inhalation powder (Spiriva HandiHaler) is packaged in capsules along with a special inhaler device.
Each time you use the medicine, load a capsule into the device and click the mouthpiece closed.
Push the button on the side of the device to pierce the capsule and release the medicine into the inhalation chamber.
You will need 2 inhalations to get the full dose from 1 capsule.
Do not take the capsule by mouth. Spiriva capsules are for use only in the HandiHaler device.
The Spiriva Respimat inhaler will lock and cannot be turned after 30 doses (or 60 puffs) have been used.
An indicator on the side of the inhaler will show when there are 14 puffs (or 7 days) of medicine left in the cartridge.
If you have missed the dose, then take it as soon as you remember but skip the missed dose if it is almost time for your next scheduled dose.
Do not use more than 2 inhalations in a 24-hour period.
Overdose symptoms may include dry mouth, eye redness, constipation, stomach pain, and confusion or drowsiness. Consult your doctor right away.