Learn all about Imiquimod cream which is used for the treatment of warts and skin cancer. There are two strengths of Imiquimod cream available 3.75% (brand name Zyclara) and 5% (brand name Aldera).
Imiquimod (INN) is a prescription medication that acts as an immune response modifier and is used to treat genital warts, superficial basal cell carcinoma, and actinic keratosis. Scientists at 3M's pharmaceutical division discovered Imiquimod as part of a program to discover inhibitors of herpes virus replication based on a known adenine derivative. 3M obtained the first FDA approval for it in 1997 as a treatment for external genital and perianal warts under the brand, "Aldera". In 2004 3M obtained FDA approval to market Imiquimod as a treatment for superficial basal cell carcinoma.
In 2006, 3M sold its pharmaceutical business in the Americas to Graceway Pharmaceuticals. Graceway declared bankruptcy in 2011 after the expiration of the patents on Imiquimod, and its assets, including the rights to Imiquimod branding and approvals in the Americas were purchased by Medicis Pharmaceutical. As of 2015, Imiquimod is generic and is available worldwide under many brands.
Imiquimod works by stimulating the immune system to release a number of chemicals called cytokines, which are important in fighting viruses and destroying cancer cells. When used to treat skin cancers and pre-cancerous lesions it results in inflammation, which destroys the lesion. The degree of inflammation is quite variable from person to person, in part due to the type of skin lesion and in part due to genetic factors. The Imiquimod is taken up by the so-called 'toll-like receptor 7' on certain immune cells that are found in the outside part of the skin (the epidermis); these receptors are expressed more in some individuals and in some skin lesions than in others.
Treatment is sometimes continued for up to 16 weeks. Treatment should be carefully monitored, because the cream may need to be applied more or less frequently than originally planned or for a shorter or longer course, depending on response. Once the inflammation has settled there is generally a good or excellent cosmetic result with little scarring. Areas treated with Imiquimod will become inflamed. The effects include itching, burning, redness, ulceration (sores), scabbing, flaking and pain. These reactions indicate that the cream is likely to be effective.
Imiquimod Cream for Warts and Skin Cancer Treatment
Imiquimod cream is used to treat superficial basal cell carcinoma (a type of skin cancer) on the trunk, neck, arms, hands, legs, or feet and warts on the skin of the genital and anal areas. Imiquimod is in a class of medications called immune response modifiers. Imiquimod has been tested for treatment of molluscum contagiosum. Two large randomized controlled trials, however, found no evidence of effectiveness of Imiquimod in treating children with molluscum contagiosum, and concerning adverse effects were also noted. Imiquimod has also been tested for treatment of vulvar intraepithelial neoplasia, common warts that have proven difficult to treat, and vaginal intraepithelial neoplasia. Imiquimod will not protect against sexually transmitted diseases such as chlamydia, gonorrhea, herpes, HIV, syphilis, and trichomoniasis.
Imiquimod Cream 5% (Aldera)
Aldera Cream is indicated for the topical treatment of clinically typical, nonhyperkeratotic, nonhypertrophic actinic keratosis on the face or scalp in immunocompetent adults. Aldera (Imiquimod 5%) Cream is an immune response modifier for topical administration. Each gram contains 50 mg of Imiquimod in an off-white oil-in-water vanishing cream base consisting of isostearic acid, acetyl alcohol, stearyl alcohol, white petrolatum, polysorbate 60, sorbitan monostearate, glycerin, xanthan gum, purified water, benzyl alcohol, methylparaben, and propylparaben. The application frequency for Aldera Cream is different for each indication. Aldera is not for oral, ophthalmic, or intravaginal use. It is manufactured as a 5% cream called Aldera. Generic forms of Imiquimod cream are also available, for example Apo-Imiquimod cream, which is funded by PHARMAC in New Zealand.
Imiquimod Cream 3.7% (Zyclara)
Zyclara (Imiquimod) Cream, 3.75% is a prescription medicine for use on the skin only (topical) to treat actinic keratosis (AK) on the full face or balding scalp in adults with a normal immune system. Zyclara (Imiquimod) 3.75% is an interesting, safe and well-tolerated treatment option for actinic keratosis of the face or balding scalp. A 3.75% cream called Zyclara has also been approved by the FDA in the USA, but is not yet available in New Zealand (June 2016). Zyclara (Imiquimod) is an immune response modifier. Zyclara cream is used to treat actinic keratosis (a condition caused by too much sun exposure) on the face and scalp. Zyclara cream is also used to treat genital warts that appear on the outside of the body, but this medicine is not a cure for genital warts.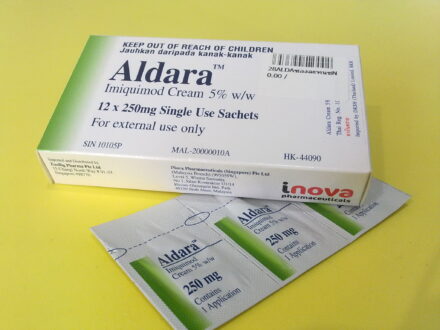 Imiquimod Cream Side Effects
Imiquimod cream may cause side effects.
• redness, itching, burning, or bleeding of the treated area
• flaking, scaling, dryness, or thickening of the skin
• swelling, stinging, or pain in the treated area
• blisters, scabs, or bumps on the skin
• headache
• diarrhea
• back pain
• tiredness
Some side effects can be serious.
• skin breakdown or sores that may have drainage, especially during the first week of treatment
• flu-like symptoms such as nausea, fever, chills, tiredness, and muscle weakness or pain
• Hair loss around the application site.
• Difficulty or pain urinating in women treated for genital warts.
• Blue lips and fingernails
• convulsions
• nervousness
Imiquimod Cream Price
This Imiquimod topical price guide is based on using the Drugs.com discount card which is accepted at most U.S. pharmacies. The cost for Imiquimod topical cream 5% is around $141 for a supply of 24 creams depending on the pharmacy you visit. Prices are for cash paying customers only and are not valid with insurance plans. Generic Aldera 5% Imiquimod Cream, manufactured by Glenmark Pharmaceuticals Ltd., India is supplied in a box with 3 sachets (Each sachet containing 250 mg of cream). The Imiquimod Cream 5% sachets cost only $5.83 per unit when you place an order for 24 sachets.