Read all about Dark Circles treatment with natural home remedies!
Dark circles also known as periorbital dark circles are dark blemishes around the eyes characterized by  development of dark discoloration of the skin under the eyes.These dark circles are not life threatening  but every body wants to get rid of from these bad looking dark circles.Number of factors are involved in the development of dark circles including genetics, advancing age, dry skin, allergies, excessive stress both mental  and physical, lack of sleep and eating unhealthy diet.If you want to get rid off from these bad looking dark circles forever then just follow these simple natural home remedies that every one should know.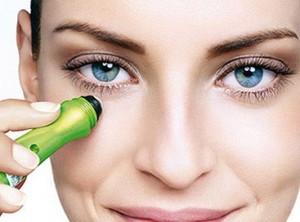 Here are some natural home remedies for the treatment of dark circles!
1. Cold Water
Application of Cold water causes constriction of blood vessels present under the eyes thereby, decreasing the  the appearance of dark circles and eye puffiness.For this purpose put a soft cloth soaked either in cold water or cold  milk directly over your eyes for a few minutes.If you don't want to use cold water then take few pieces o ice cubes wrapped in soft cloth or napkin.Now put this ice pack under eyes repetitively. Perform this therapy at least 3 times a day in order to see quick results.Now-a-days medicated "hot n cold" packs are available that can be used in body massage or it can also be used  under eyes for the removal of dark circles.
2. Cucumber
An excellent astringent, cucumber also posses skin tightening properties.Cucumbers have cooling as well as astringent properties and hence they are widely used to treat dark circles.You can always use cucumber to get rid of dark circles quickly.Cut a cucumber into thick slices and chill them in the refrigerator. Place a cool cucumber slice over each eye for 10 to 15 minutes.Then wash the area with slightly warm water. Do this twice daily for at least a week to notice changes.
Cucumber is well known for its refreshing and soothing effect on your skin.You can also used cucumber juice by squeezing the cucumber and then add lemon juice in it to increase  the effectivity of this remedy.Now, gently shake this mixture thoroughly and apply the mixture on the affected area with the help of  a cotton ball.Use this remedy for at least a week to see miraculous effects.
3. Potato
Potato is an old age remedy for the purification of skin.It is also called as natural scrub.Raw potato can be used as natural  bleaching agent that help in lightening the dark circles and also remove the eye puffiness.Take 2-3 fresh potatoes cut them into pieces.Now gently squeeze the pieces of potato in in order to extract the juice of potato.Apply the potato juice on the affected area  with a cotton ball.Leave it for 20-30 minutes and then rinse it with slightly warm water.Perform this remedy at least twice a day to get  better results.
4. Apple
Apple contains tannic acid that is widely used for its astringent action on skin.Moreover, it contains some essential nutrient like vitaminc C, vitamin B complex, potassium, selenium and high grade fiber which are necessary for nourishment of healthy skin.Dark circles under eyes  may sometime appear due to lack essential nutrients and vitamins in the upper layer of skin like deficiency of vitamin c.
Most effective way of using  apple is making their fine paste by crushing them.Now, mix this paste with aloe vera gel because aloe vera causes tightening of skin and restores skin normal appearence.Apply this paste and wait for 30-40minutes then wash it with slightly warm water.
 5. Lemon Juice
Lemon juice contains high content of vitamin C and other minerals like sodium, potassium and bicarbonates. Lemon juice is has bleaching properties and helps in the reduction of dark circles under eyes by improving the pigmentation of  skin.Apply fresh lemon juice on the affected area with a cotton ball and wash after 10 minutes.
You can  also make a paste by mixing one tablespoon lemon juice, a pinch of gram flour, two tablespoons of tomato puree  and a pinch of turmeric powder.The best time to apply lemon juice is night time before going to sleep because it provides a longer duration of contact time with skin thereby reducing frequency of application to just once a day.